Let's admit it: the facts hurt. Owning an ebike is not cheap. If you truly want to have an electric bicycle but do not have the funds right now, you would like to look into financing possibilities. Although some people may afford to pay cash, others prefer to ask for ebike finance conditions. It is not a problem and is perfectly acceptable. Numerous things in this world are beyond our financial means to purchase immediately. But if you truly want one, you can make it happen if you follow the appropriate steps.
We're delighted to report that acquiring finance for an ebike as an American is a little easier than you would imagine, especially if you believe your choices are limited.
Although the options available to you may not be quite as extensive as those available in European locations such as the United Kingdom, the majority of what is available may already give you adequate conditions if you spend the time to explore and examine everything they have to give.
Considering that you are likely interested in learning about all details of your alternatives, we have made the step to compile all relevant data in one place. You can save effort and time searching for them online this way.
Ebike Financing: What is it?
Ebike financing is a method of purchasing a bike in installments. This indicates that you may get the bicycle you desire without spending the whole price right away. Several financial companies provide ebike financing with a variety of terms and conditions. You can pay for your bicycle every month, based on the balance required by your banking institution.
It is similar to a "get now, pay later" arrangement.
Electric bicycle financing is available at several e-bike shops. They've teamed with firms that offer minimal-interest ebike financing with a few conditions.
Eligibility Requirements for Ebike Financing in the US
To qualify for funding, you must fulfill the basic criteria. Please keep in mind these are all estimates and may vary depending on the organization. Below are some of the elements that almost all companies consider:
• You should be at least 18 – 19 years old.
• Evidence of residency in the United States.
• Your current financial situation.
• Credit profile based on the history of payments and the length of time you've had a profile with a certain site.
At most, those were the only commonalities across most ebike financing options available in the United States. The main govt ID and a backup ID may be required for some financial services. A few will instantly state the specific family income levels you must reach to be qualified (– for example, it must be less than $78,000).
Many others will have more restrictive requirements, such as municipal e-bike lending programs that will only lend money to those who want to buy an ebike for the job.
You ought to be aware of local rules since not all these solutions are offered in every state in the United States. Affirm; for instance, is not available to civilians of Iowaand West Virginia.
When determining which choice to choose, keep these aspects in consideration. That's the only means of ensuring that you'll obtain the best terms possible for your personal needs and aims.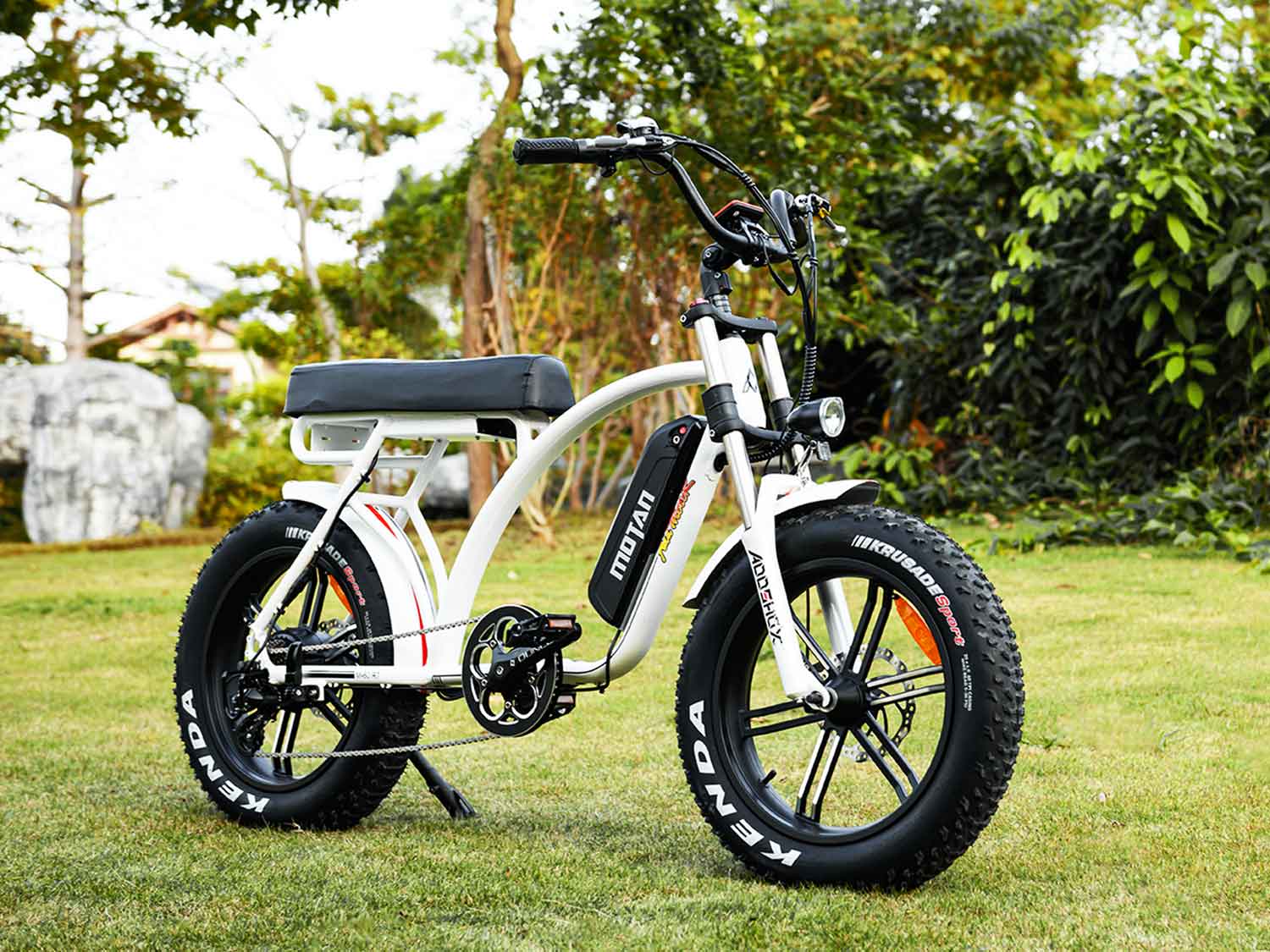 Ebike Financing: How Does It Work?
Knowing and understanding the conditions and how the ebike financing works before you decide to apply is important.
The arrangement is as follows:
1. If you fit for said amount, you'll have around 6 months to pay off your electric bike. Based on the financial situation, you may cover it for 6 months or less.
2. You will not have to pay the interest if you make the minimum of your monthly payment for those six months.
3. Ensure to pay on the scheduled time and don't go over your pay period. When you do that, it will take a significant amount of cash. Because the rate of interest will rise with each day, compute it before delaying a payment period.
Pre-qualification Is Needed
Many e-bike shops in the United States provide Affirm financing to their consumers. Be aware that the corporation frequently "prequalifies" many applications before accepting them. Most prequalified candidates will be given an approximation of just how much they can receive as a loan. So no need to lend the entire sum that will be allotted to you, according to Affirm.
Please keep in mind that prequalifying doesn't guarantee that your request will be granted (and that you will be able to withdraw the pre-qualified sum). Your payments and lending partners, as well as your site background, may influence the acceptance (or rejection) of your loan petition.
Electric Bike Financing Options
Although not every local bike shop offers an ebike financing option, practically all major online bike companies allow clients to make single-receipt qualifying purchases as well as stretch the purchase of their ebikes over several months.
Furthermore, we've discovered that not all electric bike shops provide this service. It isn't the final destination, after all.
We still suggest visiting some of the ebike shops that offer electric bikes, like:
· Chain Reactions
· The Bicycle Chain
· Rutland Cycling
Local bike shops may give some hope, but we do not advocate relying on them entirely.
In addition, we think that superior ebike financing alternatives would always be available online with a wide rates range. So you're mindful of the promise we made to showcase one top-notch ebike retailer with financing options that'd be ideal for a lot of folks?
These retailers deal with high-quality electric bike companies that you won't even find at your neighborhood bike shop. Moreover, you might think, what is the nicest thing?
Ebike Generation collaborates with a variety of financial organizations to provide a financing scheme and the options depend on the demands of all customers.
Applying for financing is straightforward at the checkout stage, and you have a variety of payment options to select from:
PayPal
PayPal is one of the payment options available to you. PayPal provides interest-free lending and is quite simple to process. On orders of $99 or more, receive 6 months of special financing wherever PayPal is allowed. there may be no 0 apr on new accounts, so check the terms of service on PayPal's site carefully.
• On all purchases of $99 or even more, get zero Interest if fully paid within 6 months. If the purchase amount is not fully paid in 6 months, interest will be applied to your account from the date of purchase. Payments must be made at least once a month.
• There is no requirement for a card. Use PayPal Credit directly from your PayPal account.
· Get a credit check in moments and enjoy the freedom of buying anywhere with PayPal Credit. PayPal is a popular payment option.
Klarna
Klarna is simple, requiring no debit card or ride card.
1. Place your product in the shopping basket.
2. At payment, choose "KLARNA" as your payment option. Depending on the purchase price, you'll see what other option your purchase fits.
3. You'll have to give two facts.
4. Your acceptance is immediate, and you'll be asked to verify your purchase.
5. Electric bike generation will send you the goods right away.
6. One month after shipment, Klarna will send an email with instructions about how to begin making monthly installments.
Quadpay
QuadPay enables you to finish your order and spread the payments out over six weeks in four interest-free parts. To utilize Quadpay, you'll still need a credit or debit card. When you are using Quadpay to make a transaction, your account will be billed 25 percent of the sales price right away, followed by another 25 percent every two weeks. Within 6 weeks, you will have paid in full the whole purchase price in the form of monthly payments without a down payment. Otherwise, late fees would be applied.
Conclusion
This has never been simpler to acquire an ebike and go on a ride program without spending a lot of money with the right finance plan. If you believe that the ebike of your dreams is out of range, consider electric bicycle finance and all of the benefits you would be able to enjoy.
Ebike users in the United States may rest easy knowing that they all have a variety of funding sources. Several of them also make it simple to prolong installments without paying any extra interest.
Considering that the majority of ebike brands in the nation are already expensive, it'd be wise to take advantage of the indisputable chances they present for getting the most bang for your buck even while riding the bikes you've long wanted to ride.